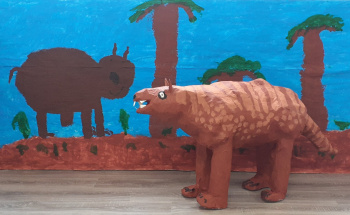 CREATING THE ART OF PREHISTORIC SOUTH AUSTRALIA
Sunday 4 June 2023 | State Library of South Australia
Are you aged 5 to 12, and want to know how to paint a plesiosaur swimming through what is now the South Australian outback? Maybe you want to draw a sketch of a giant, prehistoric wombat or use charcoal to create an underwater scene from more than half a billion years ago.
In a workshop featuring singing palaeontologist Professor Flint, internationally renowned palaeo-artist Katrina Kenny, and palaeontologists from the Flinders University Palaeontology Society and the University of Adelaide Palaeontologists, you'll learn to do just that.
The Dinosaur University Mary Anning Art Prize is an art prize for young people, aged 5 to 12, to create a work of art that explores South Australia's amazing prehistoric story. If you know a young person who's thinking of entering, this workshop is just for them.
These workshops are made possible through the generous support of Inspiring South Australia. All art materials will be supplied.
All children must be accompanied by an adult.
Full details can be found here.