SACE Stage 2 Workbooks
SASTA SACE Stage 2 Workbooks
The Stage 2 Workbooks are a student text and workbook that covers all content of topics outlined in the new SACE curriculum and provides students with questions and solutions to test their understanding. The resources are printed in colour, include fully worked examples, provide review tests for each chapter and include over 950 practice questions.
REFUNDS
Please be aware that we do not offer a refund, exchange or store credit for change of mind - buying a book from us "by accident" equates to change of mind. We therefore ask that you choose your items carefully when purchasing resources from SASTA.
New for 2020! Stage 2 Biology Workbook 2nd Edition - NOW AVAILABLE!
This workbook follows the revised 2020 SACE subject outline for Stage 2 Biology with statements from the Science Understanding section beginning each chapter. The 1st Edition Stage 2 Biology Workbook is still available at a discounted price of $29.
Download sample pages from Stage 2 Biology Workbook 2nd Edition (11 MB PDF)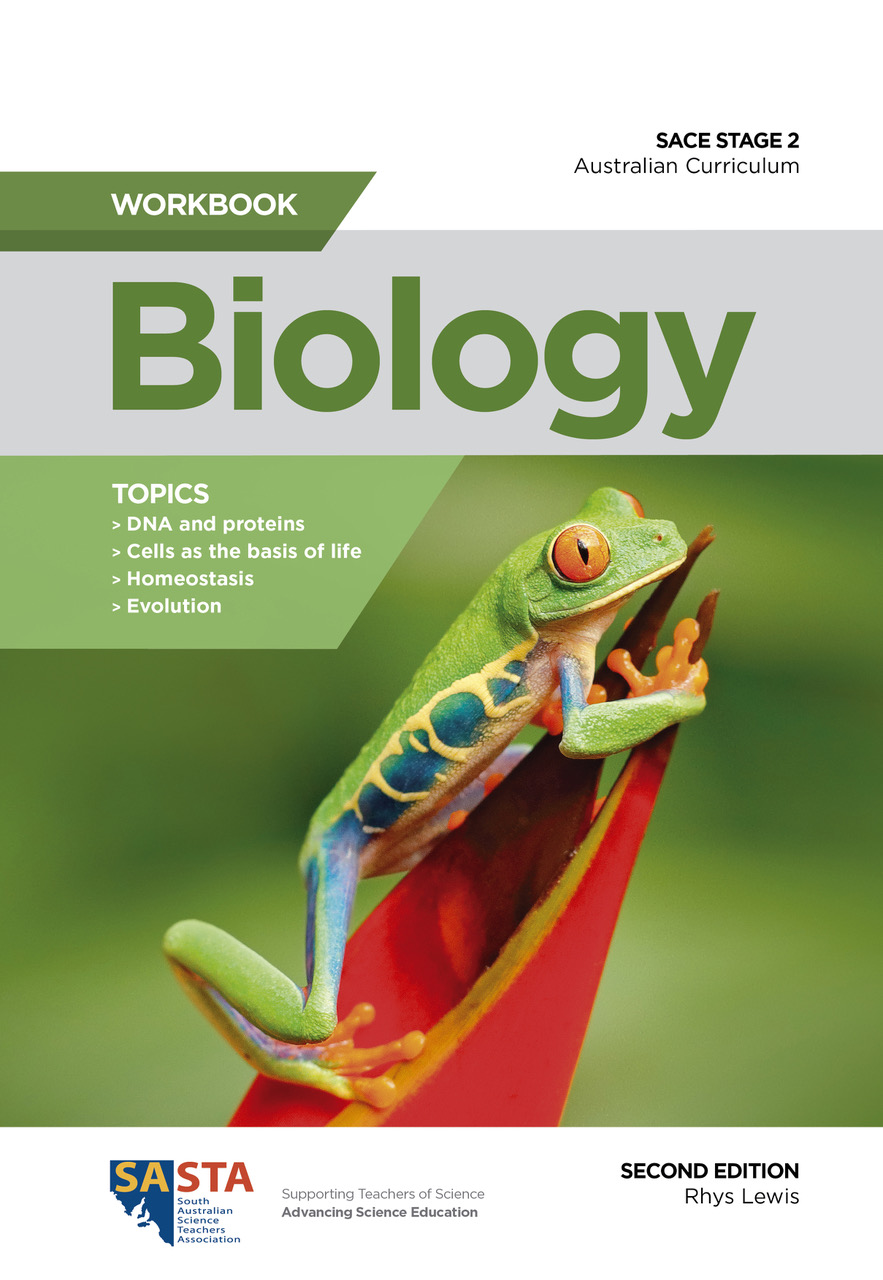 Click here to purchase your SASTA Stage 2 Workbooks online
Please note that there is a place to insert your Purchase Order number during the ordering process. For bulk school orders, email your purchase order to office@sasta.asn.au for prompt service.
We've been made aware of some errors in the Stage 2 Workbooks. Click here to view the corrected pages.
Cost: $59.00 (including GST) per Workbook
(Stage 2 Biology Workbook - 1st Ed. now discounted to $29)
Click on the links below to browse sample pages.
1st Edition

Click here to view sample pages.

SPECIAL OFFER NOW AVAILABLE. Click here for more details.

This workbook provides students and educators with over 550 practice problems embedded within 110 questions. The questions range in difficulty from simple to challenging and are intended to prepare students for assessment tasks in Stage 2 Biology.
Click here to view sample pages.

The workbook contains over 600 original questions including over 50 questions on the new Topics including Relativity, Electromagnetic Induction, and Particle Physics. Three Review Tests have also been included. The questions are in context, include local examples and are designed to prepare all learners for assessment tasks in Stage 2 physics including the end of year exam. The workbook is elegantly designed and contains hundreds of illustrations drawn by an experienced physics teacher.