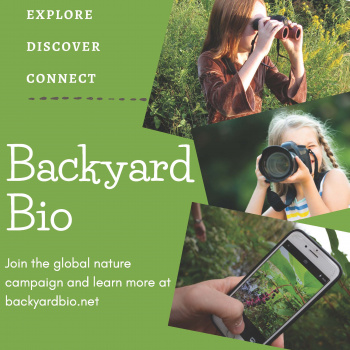 BackyardBio is a global nature campaign centered around encouraging people and especially kids to get outside exploring, discovering all the amazing wildlife that lives close to them, and sharing what they find and their love of nature with the world.
By providing a fun, engaging learning opportunity that anyone can take part in no matter where they live, the goal is to foster a love of nature and natural spaces and hopefully inspire more people to care about our living planet.
It couldn't be easier to join the adventure and take part in BackyardBio. The program is a fun and easy activity to get your family or students exploring biodiversity and sharing their passion for nature with the world! The campaign will run throughout May 2022.
Spend some time getting outside and exploring your backyard, front yard, neighbourhood, school yard, local parks and conservation areas to find as many different species of plants, insects, amphibians, reptiles, fish, birds, mammals, crustaceans, molluscs, echinoderms, fungi (you name it!) as you can. This can be a big family or classroom project or just ten minutes looking and listening to see what you discover - every minute engaging with the natural world is valuable! Take photos of everything you see!
​There are three ways to take part and share what you discovered:
Social Media - Sharing your images on Twitter or Instagram with #backyardbio is the easiest way to take part.

On INaturalist/Seek Apps - For classrooms there's no better tool to learn more about the world of biodiversity around you than the Seek App! Learn more about it here.

For groups looking to dive in more, including families, high schoolers and the general public, consider using the more in depth INaturalist App. Best of all, join the official BackyardBio Project and contribute your observations all May long!

Direct Classroom Connections - Register your classroom here to be partnered with an international network of amazing teachers looking to break down classroom walls and to join an adventure of discovery! Compare and contrast local wildlife around the globe, learn about other people and places, and connect over a shared love of wildlife!
There are also a range of resources available here.
To find out more visit the BackyardBio website.