Resources
SASTA Resources
We offer a comprehensive range of science resources for teachers and students. These resources include Study Guides, Workbooks and Text Books. Resources are distributed through schools, book shops and the SASTA Office.
SASTA Study Guides are the complete resource for students preparing for Year 12 SACE exams. Click on the relevant image below for further information on the resources available for Teachers and Students.
Please note that orders placed after Tuesday 17 December 2019 will not be dispatched until mid-January 2020.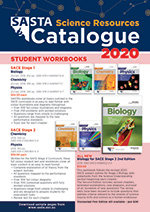 Download SASTA's Resources Catalogue (PDF)