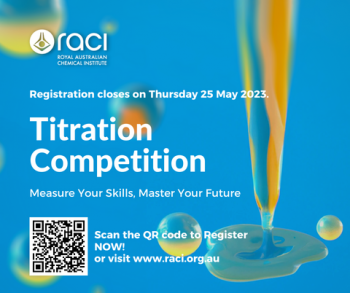 The Royal Australian Chemical Institute (RACI) runs two titration competitions:
Regional Titration Competitions for high school students, which feed into the Australian National Titration Competition and
National Titration Challenge which is for teachers, science technicians and all those involved in the secondary or tertiary teaching of chemistry to students.
The information below relates to the SA Regional Titration Competition.
About the SA Competition
The RACI Chemical Analysis competition is available in each state and territory of Australia. Each state runs the stages prior to the national level competition in slightly different ways.
In South Australia there are 3 phases – firstly a school phase which runs in schools during term 2, and successful teams from this phase are invited to compete in the State final in August (early term 3). Success in the state final leads to the National final (later term 3).
To become involved in the SA competition, teachers will need to talk with their year 12 and year 11 Chemistry students to see if they wish to form teams of three to participate in the competition. The teacher or lab manager should oversee the school phase.
School managers, after requesting samples for a specific number of teams, must also register that same number of teams using this link payments are online only. Registrations close Thursday 25th May 2023.
The fee per team (3 students) is $10.00.
Team results should be scanned - using the 2 sides for 1 page facility (reducing to A5) which reduces file sizes - is quite acceptable. The file(s) should be sent to Ian McMahon.