All Resources
PRE-ORDER: 2020 Biology Study Guide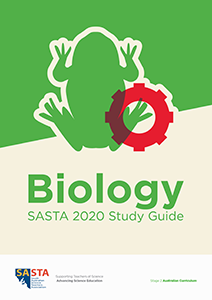 The SASTA Biology Study Guide is the complete resource for students preparing for SACE Stage 2 Biology exam.
The guide includes questions with worked solutions covering each topic of the Subject Outline and address all sections of the exam.
All new for the 2020 Study Guide!
All sections reviewed and any parts to questions beyond the scope of the course have been removed or modified.
New questions have been added to all sections.
Marks for communication on short answer questions have been removed to align with SACE marking standards.
Full set of suggested solutions to the 2019 exam.
Stock is expected toward the beginning of Term 2, 2020 (the arrival date of this publication is subject to change).
Available for pre-order online ONLY.
ISBN: 978-0-6486602-0-0
* All prices listed are inclusive of GST.
______________________________