What if...? (Year 5)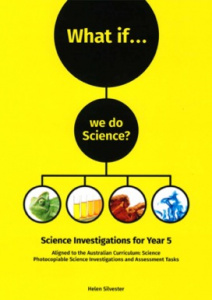 Author: Helen Silvester
Includes over 50 unique Science investigations; is aligned directly to the Australian Curriculum: Science; highlights the Science Inquiry skills and is ideal for use as an assessment tool.
What if... we do Science? (Year 5) contains easy to use student worksheets that are ready to photocopy.
"Science related study prepares a student for a life time of critical thinking and promotes a drive to find evidence and develope a broader picture of the world" (Chief Scientist 2012).
What are the Science Inquiry skills you need to teach? How can you teach them effectively?
This resource uses hands-on activities to examine a simple approach to teaching the skills needed for Science inquiry.
Also available: What if... we do Science? (Year 6)
* All prices listed are inclusive of GST.