Stage 1 Nutrition 2021 Starter Pack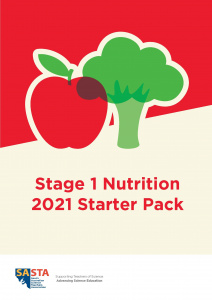 The Stage 1 Nutrition 2021 Starter Pack contains resources from the 2021 New Course Nutrition Stage 1 and Stage 2 Workshop held in January 2021.
These resources were compiled and developed by the workshop presenters specifically to support the implementation of the new Stage 1 Nutrition Subject Outline. The developed resources are not SACE resources.
As these are DIGITAL FILES, please be sure to select "Pick-up from SASTA" as your delivery method.
Once purchased, you will be emailed a link to allow you to view and download the resources. (Please note that this link will be sent to the email address used to purchase the Starter Pack through this website.)
The email including the link is not sent automatically - it will only be emailed during SASTA office hours.
If you have not received your emailed link within seven (7) days of having purchased this product, please email us directly to office@sasta.asn.au with your order number.